Diffuser Sticks
"
Our 8 Diffuser Sticks in detail
Our 8 sticks for 30 cm diffuser are essential for an optimal diffusion of your perfume. Made from premium ingredients, our diffuser sticks guarantee long-lasting diffusion. They are compatible with our two sizes of diffusers, and can be used for any scent. Order our diffuser sticks now and enjoy a fragrance experience for your home.
Small tip: Turn your sticks regularly to prolong their lifespan and better diffusion of the fragrance!
Free delivery from 75€ of purchase in metropolitan France:
• Pick-up point delivery 2-4d
• Home delivery 2-3d
• Same day delivery by bike (Loberz)
Free delivery from 150 € of purchase overseas and in Europe (excluding France):
• Colissimo Overseas 5-10d
• Colissimo Europe 3-5d
Returns possible within 14 days of receipt.
"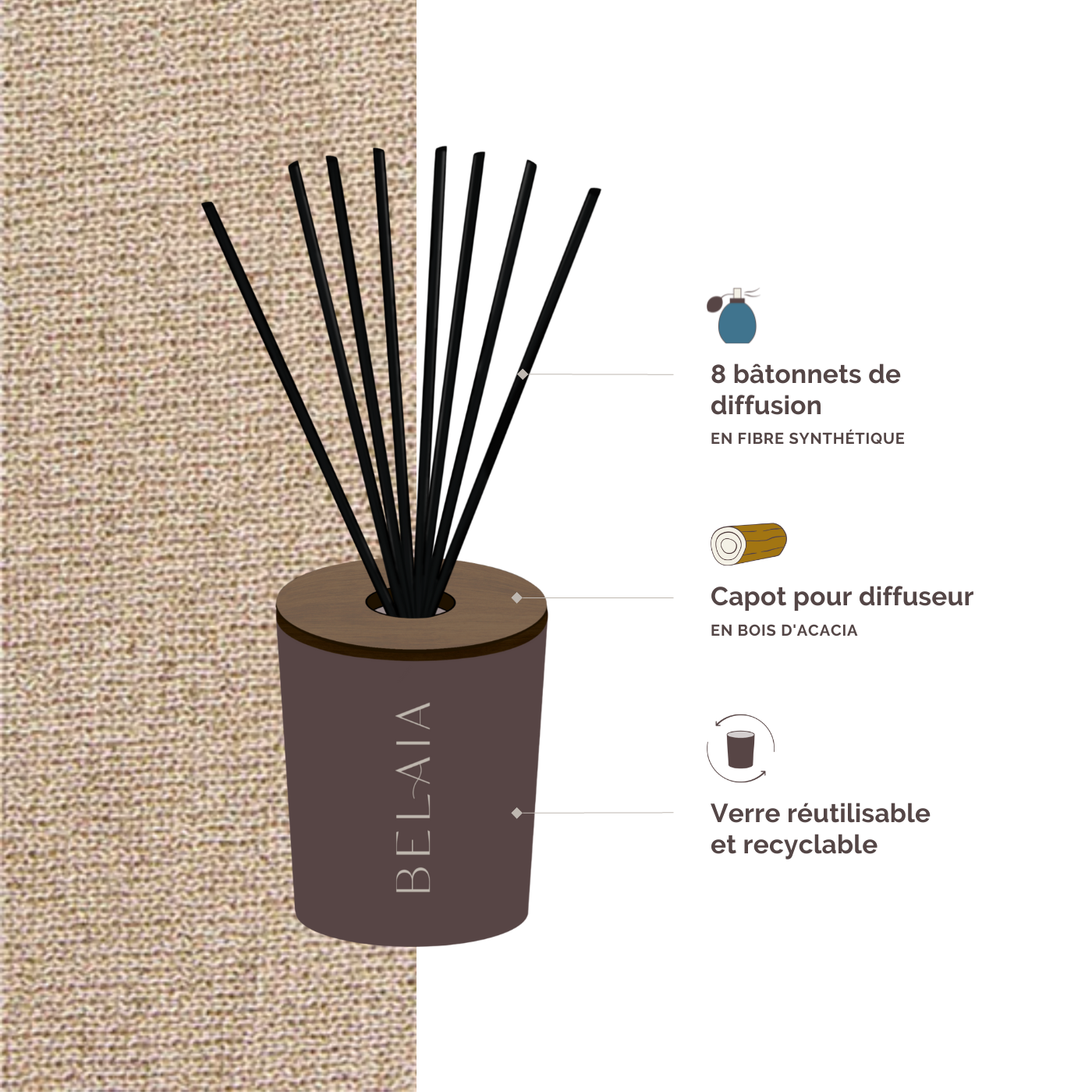 Our 8 Diffuser Sticks
Our sticks are designed to provide a personalized and convenient home fragrance experience. To adjust the intensity of the diffusion, simply modify the number of sticks placed in the diffuser. The more you add, the stronger the intensity will be, and vice versa.
When using for the first time, it is recommended to return the sticks after one hour. Thereafter, for optimal diffusion, repeat this action once a week.
In the event of a change of perfume, change the sticks to avoid any alteration between the scents of your diffuser.
How to use the Belaia fragrance diffuser?
Step 1
Pour the perfume into the glass. Leave at least 2.5 cm between the liquid and the top of the glass.
Step 2
All you have to do is close with the wooden cap and insert the sticks.

Step 3
Enjoy one of our 4 fragrances for a diffusion of 4 to 12 weeks.