Notre calendrier de l'avent digital
VENDREDI 8 DÉCEMBRE
TICKETS À GRATTER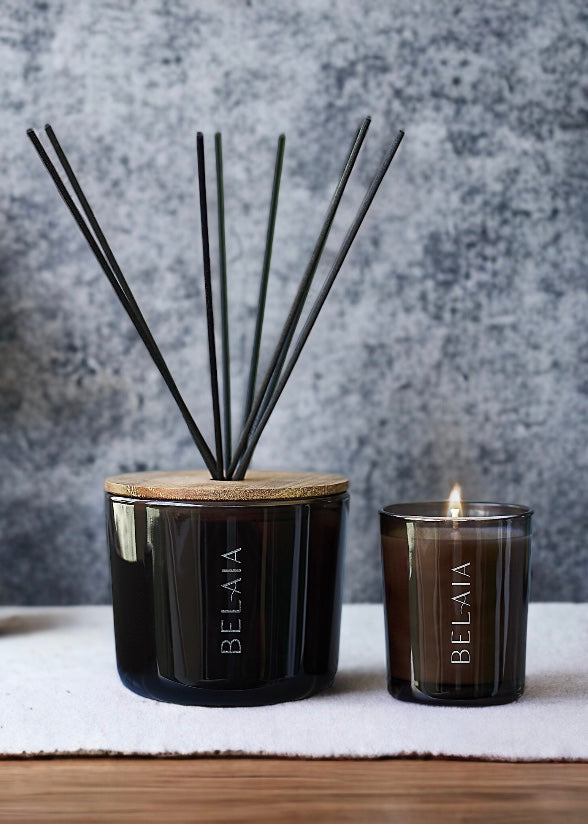 Noël arrive à grands pas & cette année, c'est nous qui avons décidé de vous gâter ❤︎
Jusqu'au 22 décembre, nous glissons des tickets à gratter dans vos colis.
Jusqu'à -50% et votre commande remboursée, c'est ce que nous vous faisons gagner !
With BELAIA, the candle is no longer ephemeral, it becomes eternal.
100% VEGETABLE & NATURAL CANDLES
TRANSFORMABLE INTO A DIFFUSER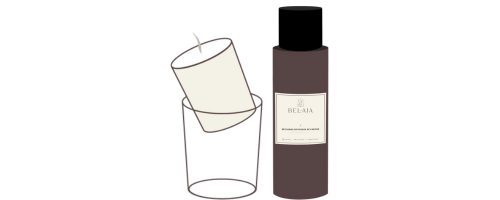 RECHARGEABLE CANDLES & DIFFUSERS
Today the sentence
"a single glass jar for endless possibilities"
has never been so true!
Nouveauté
ABONNEZ-VOUS ET RECEVEZ AUTOMATIQUEMENT VOS RECHARGES DE CIRE
Economical
Our subscriptions allow you to benefit from discounts of up to -30% on recharges and to benefit from free shipping costs. Up to €246 in annual savings.
Eco-responsible
By subscribing, you are taking a step towards more responsible consumption by reducing unnecessary waste such as empty glass jars.
Customizable
From the frequency of reception, to the scent of your refill, you choose everything. Without commitment, you can change everything whenever you want.
Practical
You no longer have to do anything to immerse your interior in a warm and fragrant atmosphere. All you have to do is relax and enjoy.

"Eco-responsible, durable over time, bewitching scents, customizable sleeves, this new brand of candles has everything to please you."

"The best part: they are a real boost for creating a holiday atmosphere at home, with the monoi and hot sand scents."

"If you dreamed of eternal, natural and eco-responsible candles, you will love the 100% natural candles made from coconut and rapeseed that Belaia offers."

"Belaia is to rediscover the very essence of a candle! An alternative made in France, eco-responsible and 100% natural, Belaia has one objective in mind: to ban the chemical components of a single-use candle by reinventing it more immortal than ever."
The Belaia monoi candle smells incredibly good. It perfumes the room even when turned off. As soon as I turn it on I have the impression of traveling to the islands. I'm so glad of my purchase.
I received my candle, carefully and nicely packaged. All prepared with care. I am enchanted by the Monoi perfume, a sweet and fragrant smell. I enjoy lighting it up as much for its aesthetics as its fragrance. I will very soon have the pleasure of buying refills to discover the different candles…
What a pleasure to light my Armenian Paper candle in my office, its smell makes everyone travel and is very pleasant! Beyond the smell, I really like the concept that avoids waste, I will test new scents thanks to the refills! Well done, I recommend BELAIA!
I am delighted with my Hot Sand scented candle. The candle smells really good. I love the eco-responsible concept with the refill, great idea!
What a pretty candle and how good it smells!! I am delighted with my purchase, I can't wait for the next one… ✨
I love !! Superb candle that smells very good! I turn it on every day! Thank you for these great products!!
The Monoi range is just amazing!! Barely lit, the smell spreads throughout my apartment! In addition, the candle can change its appearance thanks to the sleeves! I'm a fan
A big thank you for this candle which smells wonderfully good. I adore it, I find it sublime and I can't wait to have gifts to make to share this jewel with my entourage!
I am very happy with this purchase, the smell is just incredible and natural! Great quality product...I will be ordering the other flavors very soon! Thank you also for the speed of delivery. See you soon
I absolutely do not regret my choice of candle, the smell is divine and the wax of very good quality and durable. Kudos for your creations! Highly recommend Belaia Candles!!
Everything is fabulous, the product, the perfume, the packaging, the shipping! Thank you !!!!!!
Flavor your feed
@belaia.paris