Vanille Ambré Scented Candle
Choose your burn time:
70h
Our Vanille Ambré scented candle in detail
With their heady and refined scents, their clean composition and their long burning time: it's impossible to go wrong. More than a candle: a step towards a more responsible consumption thanks to wax refills which limit waste.
The candles are composed of a 100% natural vegetal wax, perfumes are developed in Grasse, and the wick is 100% cotton wick guaranteed lead-free, for healthy and homogeneous combustion.
Our Vanilla scent candle will take you on an olfactory journey with gourmet and spicy accents. Vanilla as a dominant note, which asserts itself in a play of contrasts led by floral notes, all on a subtly woody background. 100% natural coconut wax and rapeseed candle.
Free delivery from 75 € of purchase in mainland France:
• Delivery Pick-up point 2-4 days
• Home delivery 2-3 days
• Same day delivery by bike (Loberz)
Free delivery from 150 € of purchase overseas and in Europe (except France):
• Colissimo Overseas 5-10 days
• Colissimo Europe 3-5 days
Returns possible within 14 days of receipt.
70 hours candle
Wax filler (g) 180
Weight (g) 490
Size (cm) 8 × 8 × 10

200 hours candle
Wax filler (g) 500
Weight (g) 970
Size (cm) 8 × 12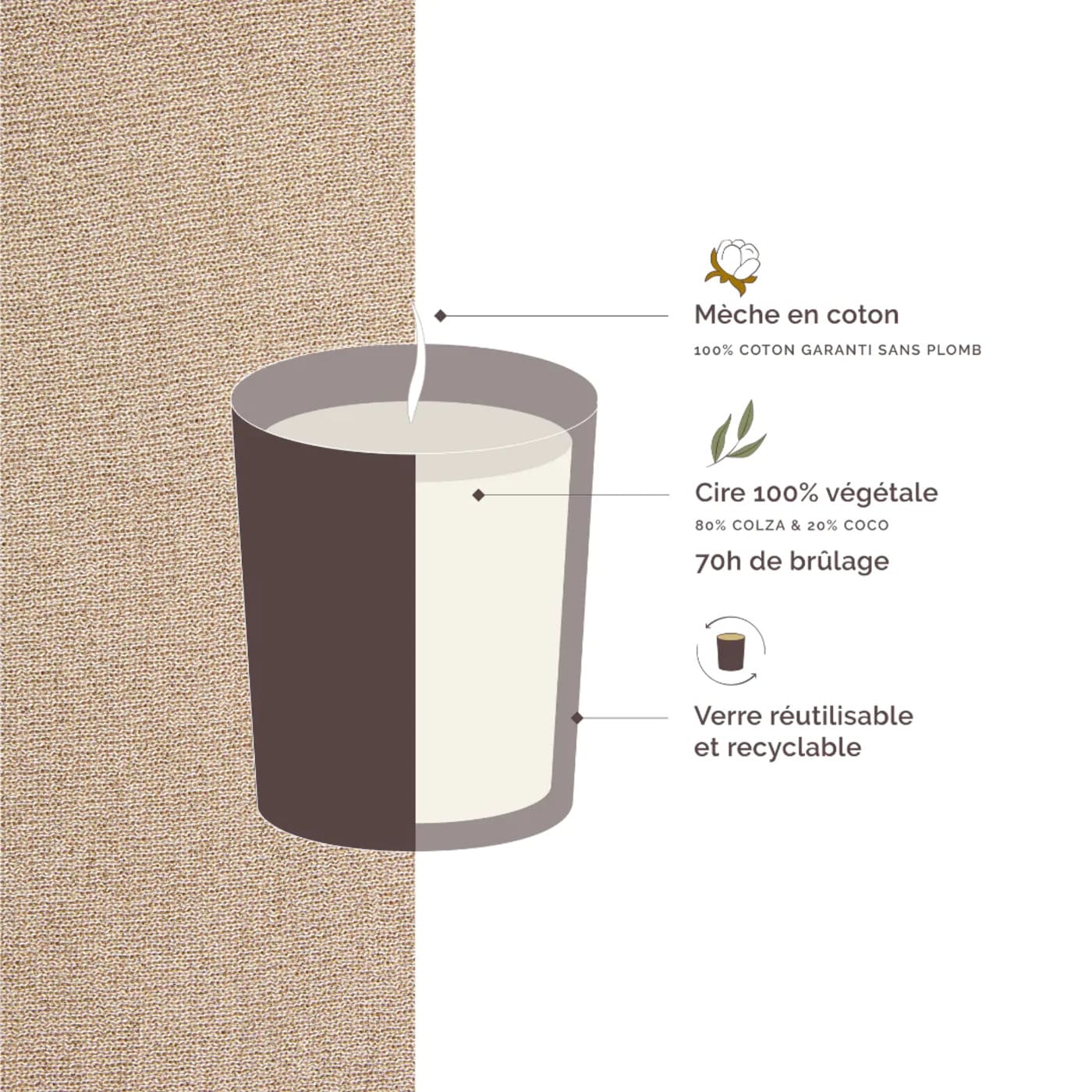 Candles Composition
We have chosen the best materials to offer you quality products. Our candles are made from natural Coconut and Rapeseed wax, a wax that burns slowly, allowing for a longer burning time and a more lasting experience. Our wick is cotton guaranteed lead free. Composed of natural fibers, it is respectful of the environment.
Usage Information
Never leave a burning candle out of your line of sight or unattended. Keep your candle out of the reach of children and pets. The candle flame can reach 10 cm in height. Keep your candle away from all sources of heat, hot surfaces, sparks, flames, and sources of ignition. Do not ingest. May cause an allergic reaction.
We accept no responsibility for any damage caused while using this candle.
Usage tips
For a perfect combustion, we recommend that you burn your candle until the entire top wax layer is melted. Do not burn your candle for more than four hours at a time and stop using your candle when its wick is less than one centimeter.